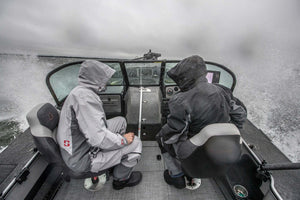 evolve series
stay cool, stay covered
Built for warm climates, eVolve keeps you dry and comfortable all day long.
eVent® Direct Venting™ Fabric Technology
An ultra lightweight and breathable set of rainwear unlike anything you have ever experienced.
3-point adjustable hood
The adjustable hood was designed with movement and comfort in mind to always keep you dry.
knee high waterproof zippers
YKK water resistant zippers go past the knew for easy removal and keep your legs stay dry.
★★★★★

"Wind, sun, rain, sleet the Evolve Jacket can take it like a champ. Hands down well worth the money. Highly recommended!"

Bryan
★★★★★

"Yesterday I fished all day in pouring rain practicing for a tournament. The Evolve Rain Jacket kept me completely dry all day, didn't restrict any of my movements, is light weight, and comfortable."

Robert B.
★★★★★

"I had high expectations for this suit but I didn't forsee just how often I would be using it. It's lightweight and details of craftsmanship is exceptional. Great for summertime or warm weather."

Chip L.
★★★★★

"For years I've struggled to find a rain suit that I could wear all day and want to wear. The eVolve suit feels like your wearing your favorite tshirt! So soft and comfortable!"

Justin G.
★★★★★

"This is the most comfortable and light wieght suit I have ever put on. If you put a sweatshirt on under it you can wear it from early spring all the way thru the fall."

Jeremy A.