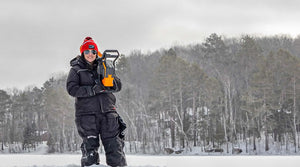 prism series
push the boundaries
Stylish, warm, and feature-packed.
Drop-seat design
For easy and convenient access when taking essential bathroom breaks.
upper bib stretch panels
The upper stretch panels on each side of the bib allow for more mobility and comfort for avery angler.
Line cutterz™ zipper pull
Quickly cut through any kind of fishing line to switch lures on the fly.
hydrapore® waterproof
Hydrapore® is a high performance waterproof/breathable laminate that is built into the outer shell fabric of Striker suits, so you can stay protected from snow, sleet, and wet conditions faced out on the ice.
sureflote® flotation assist
From early to late ice season, Sureflote® flotation provides peace of mind for every angler that hits the ice. This technology will provide up to two hours of flotation for the average person.
thermadex® insulation
Thermadex® provides warmth, softness, and breathability without the bulk. For years it has been relied upon in Striker suits to keep ice anglers warm in the chilliest of conditions.
★★★★★

"I love this jacket. And the 'extras' make it all the better! The sleeve cuffs are tight, closing off any wind or snow that try to make it's way. The line cutter zipper feature is sooo convenient."

Sara T.
★★★★★

"Very warm! and comfortable!! Also very flattering with a nice feminine fit and great color options! Roomy with lots of pockets as well as an expanding type one in the back to store extra gear such as gloves."

Anne-Sophie S.
★★★★★

"Lots of room, very warm, and lots of pockets. The back part of the jacket is low enough to keep me warm on those chilly windy days.Thanks Striker for making great outer wear for all the ladies!"

Glen