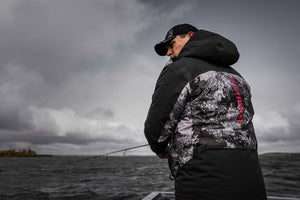 denali series
Built for the cold
Stay dry, stay warm, stay fishing.
heat map thermal lining
This interior reflective lining provides extra warmth in core areas you need it most.
adjustable sleeve cuffs with internal neoprene
The double protection on your jacket will lock out the elements, keeping moisure on the outside.
adjustable lower leg cuff
Adjust to any size, keeping water out of your bibs.
★★★★★

"The quality of this suit is total notch and keeps me toasty warm and dry under the nastiest conditions! I cannot say enough about this suit!"

David C.
★★★★★

"Best rain jacket on the market! I've owned every major name brand rain suit on the market and this one outperforms all of them. Dry, warm, and functional."

Trevor S.
★★★★★

"After owning several other top brands, I have to give props to Striker. I never write reviews but felt compelled. This is hands down the most comfortable, well thought-out rain suit I've ever owned."

David M.
★★★★★

"I'm a fishing guide in Wyoming and the wind and weather can get crazy out here. This jacket will keep you warm and dry when you need it the most! I also use this jacket and the bibs snowmobiling and it does great!"

Shane
★★★★★

"The Denali is an amazing jacket. It fits great. I love the cuff design. It is very warm and not super heavy. This is a winner."

William C.